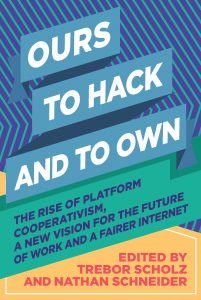 Edited with Trebor Scholz
October 2016, OR Books
One of Wired's "top tech books of 2017"
Buy: Bookshop, OR Books (dollars or bitcoin), Amazon
Real democracy and the Internet are not mutually exclusive.
Here, for the first time in one volume, are some of the most cogent thinkers and doers on the subject of the cooptation of the Internet, and how we can resist and reverse the process. The activists who have put together Ours to Hack and to Own argue for a new kind of online economy: platform cooperativism, which combines the rich heritage of cooperatives with the promise of 21st-century technologies. It is a call for a new kind of online economy, one free from the economics of monopoly, exploitation, and surveillance.
The on-demand economy is reversing the rights and protections workers fought for centuries to win. Ordinary Internet users, meanwhile, retain little control over their personal data. While promising to be the great equalizers, online platforms have often exacerbated social inequalities. Can the Internet be owned and governed differently? What if Uber drivers set up their own platform, or if a city's residents controlled their own version of Airbnb? This book shows that another kind of Internet is possible—and that, in a new generation of online platforms, it is already taking shape.
Included in this volume are contributions from Michel Bauwens, Yochai Benkler, Francesca Bria, Miriam Cherry, Ra Criscitiello, John Duda, Marina Gorbis, Karen Gregory, Seda Gürses, Steven Hill, Dmytri Kleiner, Vasilis Kostakis, Brendan Martin, Micky Metts, Kristy Milland, Mayo Fuster Morell, Jessica Gordon Nembhard, Rachel O'Dwyer, Janelle Orsi, Michael Peck, Carmen Rojas, Douglas Rushkoff, Saskia Sassen, Juliet Schor, Palak Shah, Tom Slee, Danny Spitzberg, Arun Sundararajan, Astra Taylor, Cameron Tonkinwise, McKenzie Wark, and Caroline Woolard.
Excerpts: Everybody-All-At-Once, openDemocracy
Interviews: Innovation Hub (NPR), Rising Up with Sonali
Reviews
"a much needed reminder that a better internet is possible"—Miranda Katz, Wired
"Trebor Scholz and Nathan Schneider offer a hard-headed, realist perspective"—Frank Pasquale, Boston Review
"As a market correction, this approach seems overdue"—Wendy M Grossman, ZDNet
"the most comprehensive summary of the burgeoning platform co-op movement to date"—Oliver Sylvester-Bradley, STIR to Action and The Open Co-op and The Co-operative News
"the genius of this book: it brings the futurists and the historians into the same room"—Richard D. Bartlett, Enspiral Tales
"the first charter of workers' rights for the growing but invisible digital labor force"—Elias Crim, The American Conservative
"digestible without losing its complexities"—Big Issue North
"Get the book and read it"—Antonio Blanco-Gracia, Art + marketing