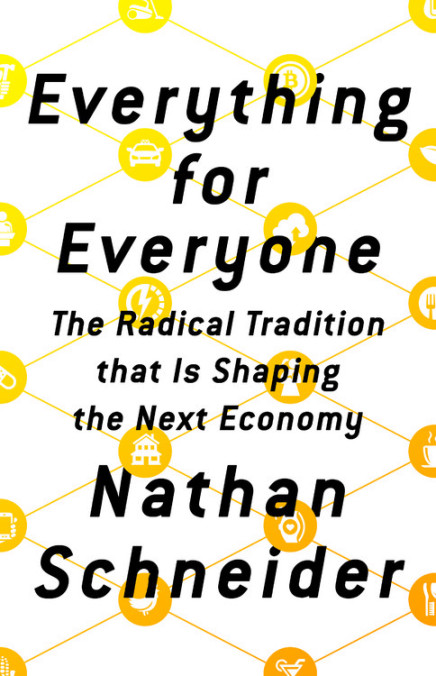 Everything for Everyone: The Radical Tradition that Is Shaping the Next Economy
September 2018, Nation Books
A new feudalism is on the rise. From the internet to service and care, more and more industries expect people to live gig to gig, while monopolistic corporations feed their spoils to the rich. But as Nathan Schneider shows through years of in-depth reporting, there is an alternative to the robber-baron economy hiding in plain sight; we just need to know where to look.
Cooperatives are jointly owned, democratically controlled enterprises that advance the economic, social, and cultural interests of their members. They often emerge during moments of crisis not unlike our own, putting people in charge of the workplaces, credit unions, grocery stores, healthcare, and utilities they depend on. Co-ops have helped to set the rules, and raise the bar, for the wider society.
Since the financial crash of 2008, the cooperative movement has been coming back with renewed vigor. Everything for Everyone chronicles this economic and social revolution—from taxi cooperatives that are keeping Uber and Lyft at bay, to an outspoken mayor transforming his city in the Deep South, to a fugitive building a fairer version of Bitcoin, to the rural electric co-op members who are propelling an aging system into the future. As these pioneers show, cooperative enterprise is poised to help us reclaim faith in our capacity for creative, powerful democracy.
Buy: Amazon, Barnes & Noble, Better World Books, Firestorm Cooperative, Hachette, Indiebound, Kobo
---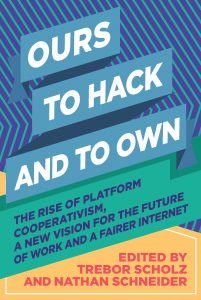 Ours to Hack and to Own: The Rise of Platform Cooperativism, a New Vision for the Future of Work and a Fairer Internet
Edited with Trebor Scholz
October 2016, OR Books
Here, for the first time in one volume, are some of the most cogent thinkers and doers on the subject of the co-optation of the Internet, and how we can resist and reverse the process. The activists who have put together Ours to Hack and to Own argue for a new kind of online economy: platform cooperativism, which combines the rich heritage of cooperatives with the promise of 21st-century technologies. It is a call for a new kind of online economy, one free from the economics of monopoly, exploitation, and surveillance.
The on-demand economy is reversing the rights and protections workers fought for centuries to win. Ordinary Internet users, meanwhile, retain little control over their personal data. While promising to be the great equalizers, online platforms have often exacerbated social inequalities. Can the Internet be owned and governed differently? What if Uber drivers set up their own platform, or if a city's residents controlled their own version of Airbnb? This book shows that another kind of Internet is possible—and that, in a new generation of online platforms, it is already taking shape.
Buy: OR Books (dollars or bitcoin)
---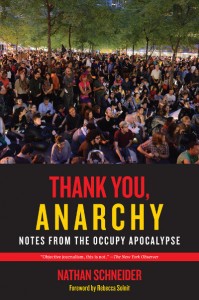 Thank You, Anarchy: Notes from the Occupy Apocalypse
September 2013, University of California Press
"Objective journalism, this is not."—The New York Observer
"Thanks to this meticulous and elegant book, we know what one witness-participant was thinking all through the first year of Occupy, and what many of the sparks and some of the tinder were thinking, and what it was like to be warmed by that beautiful conflagration that spread across the world."—Rebecca Solnit, from the foreword
"This book is a gift and a tool. Full of thick description and the voices of the protagonists themselves, you feel as if you are there, participating in the assemblies and occupations, feeling the joys and frustrations of the movement. A must read!"—Marina Sitrin, Everyday Revolutions: Horizontalism and Autonomy in Argentina
"The balanced book on Occupy I've been waiting for: sharp journalistic observation and insider knowledge, big picture knowledge of movement dynamics and attention to the telling details, writing that's witty and poignant. Schneider models for engaged intellectuals and thoughtful activists how to reflect on breakthrough events."—George Lakey, Swarthmore College
Buy: UC Press (discount code: 13M4225), Indiebound, Amazon, Barnes & Noble
---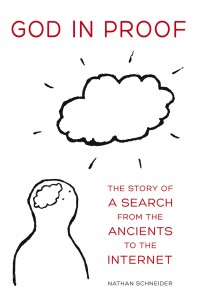 God in Proof: The Story of a Search from the Ancients to the Internet
June 2013, University of California Press
"What to call this odd, fascinating, and absolutely compelling book? History? Treatise? Manifesto? Travelogue? Confession? It's all of the above, plus drawings that are as full of wit as the delightful prose. The combination is deceptively casual, for as Schneider's excursions into philosophy and theology knit together into a story, we see the shape of subtly powerful argument for proofs as a genre more akin to visions than logic. That makes them no less true or false; only (like this remarkable book) revelatory."—Jeff Sharlet, The Family
"A heartfelt exploration of a matter typically assumed to be about the head alone, full of faith yet faithful to reason and gloriously free of the cliches of 'true believers' and 'new atheists' alike."—Stephen Prothero, God is Not One: The Eight Rival Religions That Run the World
"If Walter Kaufmann and Annie Dillard had a love child, it would be Nathan Schneider. Part philosophy junkie, part spiritual seeker, all journalist, Schneider takes us on a tour of proofs for the existence of God. Rather than trying to advance a single theistic idea, he reveals that the question of God's existence remains as urgent as ever—not in a final proof, but as an irrepressible confrontation between the self and the world. This is a very special book, written by a gifted observer of the human condition."—Kathryn Lofton, Yale University
God in Proof is a tour de force. I mean this, first of all, in the dictionary sense—the book is an exceptional achievement, unequaled by anyone else; it is a feat of extraordinary writing and ingenuity. But I also mean it metaphorically—Nathan Schneider takes the reader on an exciting historical tour of attempts to reinforce religious belief by way of proof. Though I'm a philosopher by profession and Schneider is not, I couldn't put the book down—philosophical insights veritably popped from the pages. I enthusiastically recommend the book to anyone, professional philosopher or not, interested in philosophical argument, in general, and proofs of God's existence, in particular."—Kelly James Clark, Return to Reason
Buy: UC Press (discount code: 13M4225), Indiebound, Amazon, Google Books, Barnes & Noble
---
Chapters in other books
"An Internet of Ownership: Democratic Design for the Online Economy," in Cooperatives and the Future of Work, ed. Bruno Roelants, Hyungsik Eum, Simel Esim, Sonja Novkovic, and Waltteri Katajamäki (Routledge, 2019)
"A Wantless, Workless World: How the Origins of the University Can Inform Its Future" (preprint), in Education and Technological Unemployment, ed. Michael A. Peters, Petar Jandrić, and Alexander J. Means (Springer, 2019)
"What To Do Once You Admit That Decentralizing Everything Never Seems to Work," in Decentralized Thriving: The Here and Now of DAOs (DAOstack, 2019)
"'Truly, Much Can Be Done!': Cooperative Economics from the Book of Acts to Pope Francis," in Care for the World: Laudato Si' and Catholic Social Thought in an Era of Climate Crisis, ed. Frank Pasquale (Cambridge University Press, 2019)
"Christian Futurism," in Ted Nunez, Sustainable Abundance for All (Cascade Books, 2018)
"This Platform Kills Fascists," interview by Ben Tarnoff in Tech against Trump (Logic, 2017)
"Sentimental Repression," in Oh God Oh God Oh God: Essays on Sex and Religion (Killing the Buddha, 2015)
"Why We Hack," in Wisdom Hackers (The Pidgeonhole, 2014)
"Anarcho-Curious or, Anarchist Amnesia," in Noam Chomsky, On Anarchism (New York: New Press, 2013)
"Divine Wilderness," in Invalid Format: An Anthology of Triple Canopy, Vol. 2 (Sternberg Press, 2012)
"No Revolution without Religion," in We Are Many: Critical Reflections on Movement Strategy from Occupation to Liberation, ed. Kate Khatib, Margaret Killjoy, and Mike McGuire (AK Press, 2012)
"Maintain Nonviolent Discipline," in Beautiful Trouble: A Toolbox for Revolution, ed. Andrew Boyd (OR Books, 2012)
"No Leaders, No Violence: What Diversity of Tactics Means for Occupy Wall Street," in This Changes Everything: Occupy Wall Street and the 99% Movement (Berrett-Koeler Publishers, 2011)
"Morning in the Monastery," in Young and Catholic in America, ed. Kevin Meme and Jeffrey Joseph Guhin (Paulist Press, 2010)