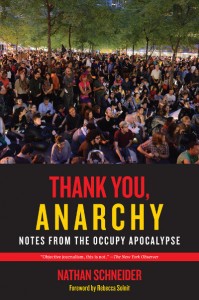 September 2013, University of California Press

Buy: UC Press (discount code: 13M4225), Bookshop, Amazon, Barnes & Noble
Thank You, Anarchy is an up-close, inside account of Occupy Wall Street's first year in New York City, from the early planning meetings to May Day and beyond. By thinking and acting toward the end of the world as we know it, the Occupy apocalypse caused a rupture that shook millions out of a failed tedium and into imagining, and fighting for, a better kind of future. The movement's most stubborn and radical impulses created new possibilities for thousands of people, while also giving rise to some of its toughest obstacles.
This book charts the origins and growth of Occupy Wall Street through the eyes of some of its most determined organizers, who tried to give shape to an uprising always just beyond their control. I try to bring to life the General Assembly meetings, the chaotic marches, the split-second decisions, and the moments of doubt as Occupy swelled from a hashtag online into a global phenomenon. Thank You, Anarchy is a study of the spirit that drove this watershed movement. And, for those not faint of heart, it is also an invitation.
As seen on The Newsroom.
Excerpts: Chatauqua Institution, Alternet, Guernica, Los Angeles Times, RapGenius
Interviews: At the Heart of an Occupation, Democracy Now!, Diagonal, HuffPost Live, Jadaliyya, The New Inquiry, Nothing Urgent, Occupy Radio, The Rag Blog, Truthout
Reviews and endorsements
"Thanks to this meticulous and elegant book, we know what one witness-participant was thinking all through the first year of Occupy, and what many of the sparks and some of the tinder were thinking, and what it was like to be warmed by that beautiful conflagration that spread across the world."—Rebecca Solnit, from the foreword
"Schneider does a remarkable job of conveying the euphoric sense of possibility that transformed so many people in the square, as well as the frustrations"—Nick Pinto, Al Jazeera America
"I consider this book one of the lasting benefits of Occupy."—David Swanson, WarIsACrime.org
"a longtime chronicler of the Occupy movement"—Amy Goodman, Democracy Now!
"Schneider's prose is rich with metaphors, historical allusions and clearheaded reflections that reveal a writer hard at work to get it right. His panoptic reporting in Thank You, Anarchy brings to mind the work of George Orwell in Down and Out in Paris and London, the books of Robert Coles on his experiences as a psychiatrist in the South, and Norman Mailer's The Armies of the Night on the 1967 anti-war march in Washington."—Colman McCarthy, National Catholic Reporter
"few accounts have been as eloquent, as personal, or as nakedly honest as Thank You, Anarchy. It's a book about how collective common sense can change, and what that messy, maddening, beautiful process looks like."—Sam Ross-Brown, Utne Reader
"Schneider writes lyrically about the communitarian joy of being at Zuccotti Park, which for him was clearly a spiritual experience as much as a political one."—Adam Kirsch, Barnes and Noble Review
"Schneider's book reinforces my conviction that committed individuals, who conceive actions intended to advance the process started by Occupy Wall Street, may bring about another apocalypse that inspires and rejuvenates us all once again."—Kevin Gosztola, FireDogLake
"This detailed account of the inception and growth of the Occupy movement touched me in a way I wasn't at all expecting. … I get it. Thank you, anarchy."—Elizabeth Reavey, America
"a series of dispatches cum mediations on the Occupy movement and moment … verges on prose poetry."—Matthew Wasserman, The Indypendent
"If you cared at all about Occupy you need to read this new book"—Gabriella Coleman, McGill University
"Schneider brings a theological lens to this invaluable chronicle of the Occupy movement…a keen eye for the uses and abuses of apocalyptic politics."—Jeff Sharlet, The Immanent Frame
"riveting … Schneider draws from first-hand reportage, social media, and other sources to depict the spirit, influences, conflicts, and criticisms of the movement."—Publishers Weekly

"This book is a gift and a tool. Full of thick description and the voices of the protagonists themselves, you feel as if you are there, participating in the assemblies and occupations, feeling the joys and frustrations of the movement. A must read!"—Marina Sitrin, author of Everyday Revolutions: Horizontalism and Autonomy in Argentina
"The balanced book on Occupy I've been waiting for: sharp journalistic observation and insider knowledge, big picture knowledge of movement dynamics and attention to the telling details, writing that's witty and poignant. Schneider models for engaged intellectuals and thoughtful activists how to reflect on breakthrough events."—George Lakey, Swarthmore College
"Part pamphlet, part meditation, and part dispatch from the vortex of a fiery volcano, it hits the ground running and doesn't end until Occupy itself comes to an end … [a] fast-moving cinematic chronicle"—Jonah Raskin, Occupy.com
"I would strongly recommend the recent book Thank You Anarchy … While it is predominantly a journalistic rather than an academic account and, as such, Schneider generally avoids theorizing, his account has much to inform our sociological understandings of movements."—Todd Nicholas Fuist, Mobilizing Ideas
"This book is a treasure."—Drew Hornbein, Amazon reviewer
"It wasn't the revolution, but for a while, Occupy sure damn felt like it could be. Notes from the Occupy Apocalypse takes us back to those first few days of Occupy Wall Street, with all its beauty, its chaos, and its ridiculously long general assemblies. With a strong, often hilarious voice and the critical compassion that can only come from someone who camped out in Zuccotti Park himself, Nathan Schneider goes beyond the simplistic divides (violence or nonviolence? a movement or a moment?) to offer a true sense of what Occupy was. It was a diverse, complicated people, struggling to live up to its own revolutionary ideals. In short, Occupy was America, in all of our tragic glory." —Josh Healey, winner of Mario Savio Award, activist and author of Hammertime
"I can't imagine there is or will be a fuller street-level account of Occupy Wall Street."—Jim Woster, Razorcake
"Part history, part on-the-scene reporting, and part hope for a better future, the work is valuable and delightfully controversial."—John Scott G, Publishers Newswire
"a unique insiders' account of the original Occupy Wall Street encampment in Zuccotti Park in New York City, along with compelling data on the movement's internal and external struggles"—Matt Sheedy, Bulletin for the Study of Religion
"A deeply loving and sensitive reading of the hopes, fears, and spiritual sensibilities of those who gathered in Zuccotti Park"—
Clark
West
,
Religious Left Law
"Idealistic enough to cheer on the Occupy protests, realistic enough to catalogue their failures, Schneider brings the same alert witness and affable analysis that his book on belief featured."—John L. Murphy, New Clear Vision
Buy: UC Press (discount code: 13M4225), Bookshop, Amazon, Barnes & Noble